WHEN CASSIUS CLAY VISITED NOTTINGHAM
by Ethan Lewis
On the 27th of May 1963 my father, aged 15 at the time, met Cassius Clay at the Victoria Hotel in Nottingham (now the Hilton Hotel) and he also obtained his autograph (pictured below).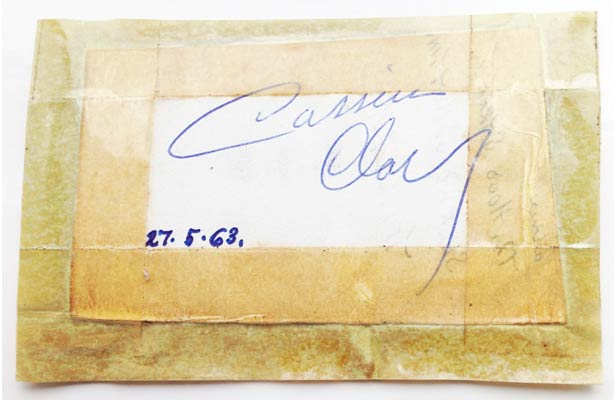 Clay was accompanied by two well known Nottingham Police Officers, PC Geoff Baker (who sadly recently passed away aged 86) and PC Denis 'Tug' Wilson, both men were about 7 feet tall in their boots and helmets.
Cassius was in the city to watch a British Title Fight between middleweight George Aldridge and Mick Leahy at the old ice stadium prior to his five round victory over Henry Cooper.
The fight was won by Mick Leahy in 1 minute 45 seconds.
At the Victoria Hotel Cassius told the press 'ask no questions, I'll just talk' - some of the things he predicted were Cooper will fall in five, Liston is an ugly bear and will fall in eight.
Cassius returned to Nottingham 1992 as Muhammad Ali, 29 years later to sign his book at Dillon's bookshop in the town centre. Unfortunatly dad did not get to see him this time as the queues were back to the old market square and neither did I because at the time I wasn't born.